Turning America's
Digital Divide into
Digital Dividends
Policy Recommendations for the
Biden Administration
UPDATE: Our updated analysis, state and city broadband maps, and data dashboard can be found here.
At the height of the pandemic, millions of Americans learned that they would be receiving stimulus checks of up to $1,200 as a small buffer against the financial hardship many were facing. Over half of survey respondents said they planned to use the money to pay bills or buy basic essentials like food. Within two months, 159 million Americans had received these payments, yet many of the poorest and most vulnerable had to wait much longer for checks or debit cards, some of which never arrived. Those who never received their payment—disproportionately "non-filers" who are lower income and not beneficiaries of programs like Social Security—were told by the IRS to fill out a digital form online. One major barrier to this solution: lower income people are less likely to have internet at home, and the connection spots like schools and local libraries they had relied on in the past were closed. A year after the first round of stimulus checks were announced, up to 8 million Americans had not received the payment to which they were entitled.
Americans are more reliant on the internet than ever. Yet access remains far from equal. As the pandemic highlighted, high-speed broadband is a necessity to work, learn, shop, and connect with one another. Digital inclusion is not only an added source of resilience in times of crisis, but it is the first step toward financial inclusion for the most vulnerable Americans. It's a necessity for children who increasingly rely on the internet to do their homework and advance academically. Those on the wrong side of the digital divide find it hard to access the same economic opportunities available to their connected peers.
Compared to our global peers, the US is lagging on cost, speed, and access to the internet. After years of inaction and delay, Congress has finally reached a compromise, and is committing billions through the infrastructure bill to expand broadband access across the nation. Now the work of allocating those resources begins. Unfortunately, we still do not have a clear picture of the digital divide. What we do know is that current commitments are far below what is actually required—$240 billion—to achieve universal broadband. What steps might the Biden administration take to bring clarity, more resources, and progress to the challenge of the digital divide?
Techonomy Talk: How America's Digital Divide Adds Up: A Report on Connectivity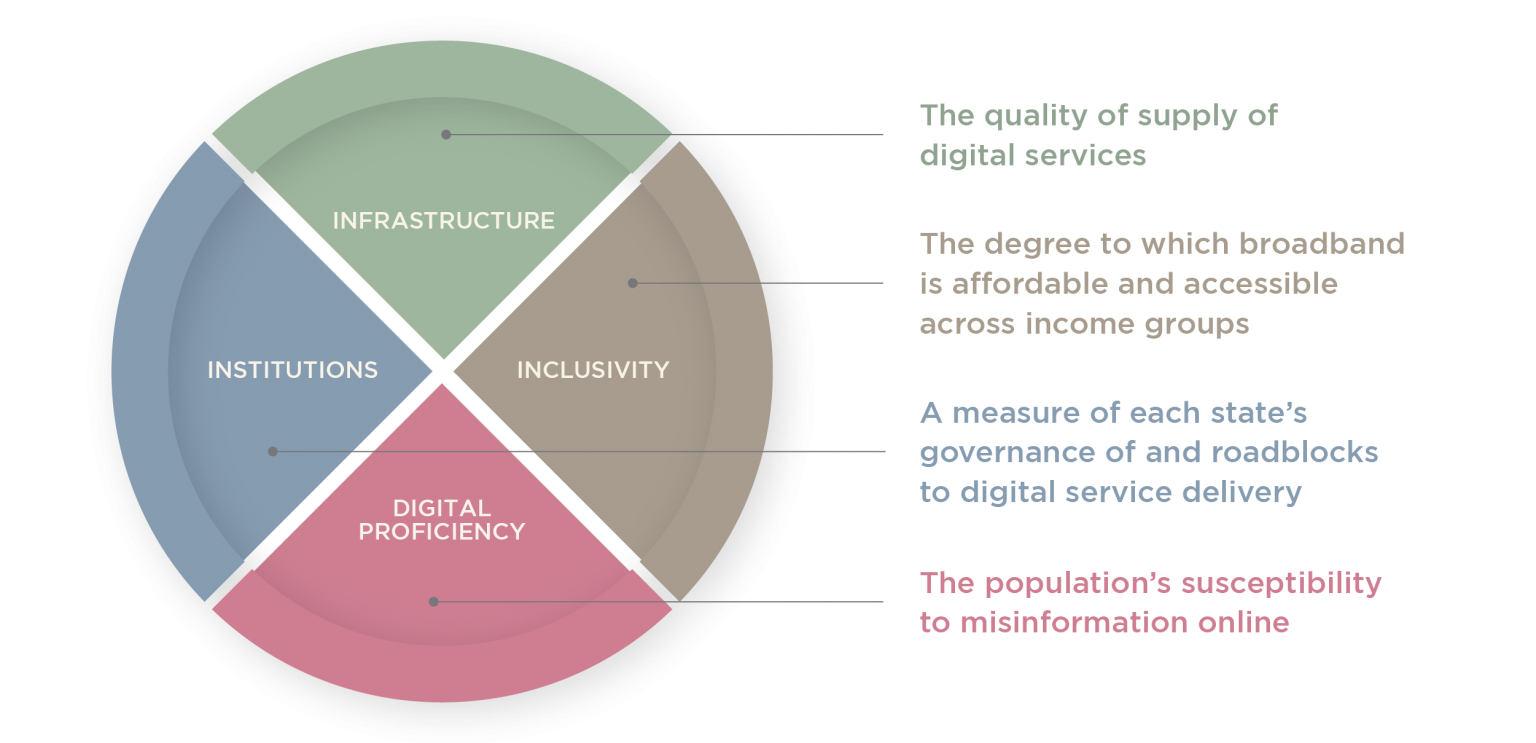 At Digital Planet, we identified key facets of the digital divide: access, inclusion, institutions and digital proficiency. We also examined racial, socioeconomic, and urban-rural distributions, and used this analysis to work toward clarifying the nature and extent of the digital divide in the United States. The maps below, based on a combination of the best available data, organized at the state and county level, offer snapshots of the divide and how it varies across the country.
The federal government can set a nationwide framework, develop policy guidelines, secure budgets, and offer incentives, but the barriers to digital readiness and solutions must be identified at a state and local level.
Internet service providers have few incentives to expand service in rural communities, creating an access gap. At the same time, an estimated three times as many metropolitan households as rural households lack broadband subscriptions—suggesting an additional affordability gap. Improved data collection—spearheaded by the FCC—can help states develop a more intelligent and informed broadband strategy that will consider local realities and cater to local needs. The status quo—woefully inadequate and inaccurate broadband maps—hits tribal and low-income communities the hardest.
Each state has different issues and different barriers to dismantle. Some, such as Arkansas, Kentucky, Mississippi, New Mexico, Alabama, and West Virginia, with less than a third of their populations with basic broadband access, should be prioritized for investments in access infrastructure. Others, such as Wisconsin, North Carolina, and Nebraska have seen lobbying efforts create roadblocks to public sector alternatives such as municipal broadband. Still others lack a coherent broadband strategy entirely, or the political will to see it through. Across all these states, they must be given targets depending on the barriers that they must take down, with incentives and resources to achieve those goals.
While the FCC works toward giving the country a clearer picture of the true state of the broadband gap, we cannot wait to move forward on securing resources and developing a strategy for the deployment of those resources. The policy recommendations below lay out a path to achieving a more inclusive internet in the United States: transforming America's digital divide into digital dividends.
Digital Divide Across the 50 States
Broadband Usage in United States
Select a state from the map to see details.
Alabama
: Gap in broadband usage vs. population density
Broadband Usage Gap
Number (or percentage) of people in urban or rural counties not using the Internet at broadband speeds, as of November 2019 . Broadband speed as defined by the FCC is at least 25 Mbps/ 3 Mbps. Urban and rural gap is defined by people living in urban, mostly rural and completely rural counties as defined by the US census. (Source: Microsoft)
Broadband Usage by County
No Data
< LOW USAGE
HIGH USAGE >
Population Density

Alabama
:
Select parameters for comparison
Alabama
: State Dashboard
Infrastructure
Internet Speed
1. Close the access gap through better data, a larger budget, and more informed planning
Infrastructure
Institutions
Inclusivity
Create a comprehensive nationwide plan to close the access gap with better data, an accurate estimate of the budget required, and a plan to effectively allocate those funds and finally close the gap.
The FCC drastically underestimates the number of people without broadband and overstates the rates of service availability. Our $240 billion figure combines FCC cost assumptions with a more accurate estimate of the population that is currently without broadband – 42 million instead of 14.5 million. The digital divide cannot be closed without accurate data and mapping. Currently, using Form 477, a census block is considered "served" if a single household has access to the Internet at 25 Mbps/3Mbps. In order to effectively allocate funds, the FCC must reform the reporting process to get address-level information on broadband access, availability, and affordability. While the
latest effort to crowdsource access and speed data
is a creative temporary measure, and provides an intelligent check on ISPs self-reported data, the
$98 million allocation
to create a comprehensive US broadband map must include a challenge process to dispute ISP claims, and work toward a far more accurate, timely view of the digital divide. A better map is the first step in an effective, accountable plan for the allocation of resources. The current estimate of $80 billion needed to expand broadband is inadequate. Not only is the estimate insufficient, but
Congress' commitment to reach that number is rapidly dwindling, with the latest figure pared down to $65 billion
. Even that number may actually be lower, given that
Senator Mark Warner's office stated that it includes $20 billion already allocated in the earlier pandemic relief plan
. In order to close the nation's digital divide, we must first find a way to close the massive gap in funding.
Methodology: $240 billion to close the broadband gap
Our methodology for deriving an accurate estimate of the cost to close America's broadband gap first determines the degree to which the FCC data underestimates the rural and urban broadband gap by state, and then multiplies the FCC state-by-state cost estimates to adjust for the relevant degree of miscalculation.
To find the rate at which the FCC underestimates both the rural and urban gap in each state, we compare BroadbandNow's more accurate broadband data to FCC-reported data, at similar times of collection (2019).
We then multiply the FCC cost analysis by state with the rate of underestimation. Cost estimates by state are then broken down into rural and urban components, accounting for the assessment that providing rural coverage is 1.27x more expensive than urban.
2. Close the affordability gap through modernizing the Lifeline program and supporting digital equity offices
Infrastructure
Institutions
Inclusivity
Digital Proficiency
Reform the Lifeline program: expand participation, increase the subsidy, and improve plan quality. Support local solutions through funding digital equity offices across the states.
Broadband access in the US is among the most expensive anywhere in the world. The Ajit Pai-led FCC's decision to roll back net neutrality has made it possible for broadband companies to charge more for certain services or content. Current affordability solutions are sub-standard. Lifeline—a federal program created in 1985 aimed at low-income Americans—offers such poor service and contains so many restrictions that only 1 in 4 of the more than 33 million eligible households actually take advantage of it. Lifeline is the only current, long-running federal program directly addressing the affordability gap at the household level, offering subsidies and low-cost smartphone or broadband plans to consumers. To increase enrollment, individuals should automatically be enrolled when they are given other government benefits, like SNAP (Supplemental Nutrition Assistance Program) or Medicaid. The current benefit ($9.25 a month for broadband) is drastically insufficient, given that monthly broadband costs on average between $68.36-$83.41, which makes up for only 13% of the average advertised price in the US. A more generous benefit will encourage more program participants to join. Shortly after the Emergency Broadband Benefit (EBB)—a temporary, pandemic-era program establishing a $50/month home internet subsidy—went into effect, the eligibility website temporarily crashed due to its popularity. As of late June 2021, the EBB has over 2.77 million enrollees. Through expanding the base of companies that pay into Lifeline beyond landline and wireless phone providers, the program could increase the subsidy, reach sustainability, and expand enrollment—living up to its name.
E-Rate is another program worth reimagining. While the stimulus funding of $7.2 billion towards the Emergency Connectivity Fund is a welcome change to expand the E-rate program beyond the walls of schools and libraries and into homes to bridge the homework gap among students attending school remotely during the pandemic, long-term funding solutions to permanently bridge the digital divide must be adopted. A recent report estimates that keeping students connected at home will cost up to $11 billion in the first year and up to $8 billion annually thereafter. Furthermore, in order to close the divide for teachers, an additional cost of $1 billion is needed in the first year.
While a lack of broadband access in rural areas captures the attention and sparks discussion among elected representatives, the adoption gap is 3 times as wide among urban households as rural households. The more urban the area, the wider the variation in broadband adoption—suggesting affordability as the primary barrier to adoption in urban areas. Our past work highlighted how Black and brown households have less access to broadband internet and laptops than white households. Improving affordability, access, and digital skills requires local focus and support. During the pandemic, local governments and civic organizations stepped in to creatively find solutions to the broadband gap. Pre-pandemic, states were stepping up to fill the gap left by the federal government through developing strategies to expand broadband access. Given the current dearth of credible and timely data around access, affordability, and digital proficiency from the FCC, states and localities must be engaged and supported in their efforts to close the digital divide.
Local digital equity offices offer one solution. These offices can work collaboratively across state and local government agencies, partner with community groups, and work to identify which gaps—access, affordability, or digital literacy—are most pressing in which areas and help to design appropriate solutions.
3. Invest in digital literacy and skills-building
Equipping the public with digital skills and tools will not only help people fully realize the benefits of broadband, but will add a layer of protection against increasing cyber-attacks and misinformation.
Outside of cost and access barriers, digital literacy and perceived relevance play a role in preventing consumers from coming online. While the pandemic may have spurred a greater interest in digital tools among some consumers, developing digital literacy and expanding proficiency will foster a more inclusive digital space.
A 2017 Pew Research Center study concluded that the growth of misinformation requires significant attention "urging a bolstering of the public-serving press and an expansive, comprehensive, ongoing information literacy education effort for people of all ages." Similarly, a study undertaken by the Centre for the Study of Democratic Institutions found that deficits in digital literacy are among the key sources of vulnerability to digital interference in democracies. In order to combat such disparities, it is critical that digital literacy become part of the discussion around closing the digital divide.
Digital literacy is not simply about understanding how to use technology and common digital tools, but it requires the critical thinking and contextual knowledge to recognize the negative aspects of the online environment, like misinformation and phishing attempts. Developing digital proficiency is a lifelong learning process, where government and the private sector can support users.
Cities and localities recognize the need for digitally literate communities and are investing in developing more digitally proficient populations. Austin, Nashville, and Louisville all have "digital inclusion" funds to help low-income people improve their understanding of computers and the internet. Charlotte and Providence use "digital navigators" to provide one-on-one assistance for those who need it. Microsoft offers free digital literacy courses online, which are used by schools, nonprofits, and governments. Cyber Seniors connects young, tech-savvy people with support and training for senior citizens, not only helping them to improve their digital skills, but also reducing social isolation. Schools are beginning to teach cyber hygiene courses, with curricula available for grades K-12. Innovative solutions to improve digital proficiency are sprouting up too, like Digital Public Square, which created an online game to fight pandemic-related misinformation.
While localities recognize the need for digital literacy programming, they also require the budgets to expand solutions. Both New York and Maryland are using American Rescue Plan funds to expand digital inclusion, and are thinking beyond basic access. The federal government must also recognize digital inclusion goes far beyond a wi-fi signal, and support community-led efforts to improve digital proficiency.
4. Upgrade the standard to 100Mbps
Infrastructure
Institutions
Raise the standard for high-speed broadband to match 21st century uses of the internet: 100 Mbps for both download and upload speeds will future-proof current investments.
The pandemic has only underscored the importance of fast, reliable, and low-cost internet access, as the digital divide continues to persist for millions of Americans. The FCC's standard of 25 Mbps in download speeds and 3 Mbps in upload speeds is not only outdated, but lags behind digitally advanced nations like Estonia, Singapore, and Switzerland. For example, Zoom recommends an upload speed of at least 3.8 Mbps just for a single connection, let alone the multiple calls that typically occur in a single household on a daily basis. An estimated 74 percent of Americans with access to broadband pay for 100Mbps or faster, and that number is expected to grow to 90 percent within the next five years. With an average U.S. household using five devices, and nearly one-in-five households using at least 10 devices, a faster speed and higher standard of up to 1000 Mbps or 1 Gbps is what the market is demanding, and what the future requires.
As four U.S. Senators recently suggested, earmarking federal dollars towards deploying broadband networks capable of providing high-quality internet access, with low latency and increased reliability, will help ensure that U.S. broadband infrastructure meets the demands of modern and emerging uses of technology: from telehealth consultations and remote learning to the burgeoning Internet of Things and smart-grid applications.
Our past work has shown that the growth in tech jobs tends to cluster more in places with high costs of living and high levels of digital readiness—raising the bar and expanding access to high-speed broadband across the nation can help de-cluster the tech sector and generate inclusive growth dividends more evenly.
Future-proof broadband will be pricey—even our estimate of $240 billion would increase with this higher standard. At the same time, investing in second-rate service is a waste of taxpayer money. With improved data and mapping on access and speeds, the administration will have a better sense of the true cost of universal, high-speed broadband, and will need additional revenue sources to achieve it.
5. Tell Big Tech to pay their fair share.
Infrastructure
Institutions
Tax digital ads to fund the ambitious programs necessary to close the digital divide.
With public trust in technology companies cratering, and calls for more aggressive competition policy growing stronger, lawmakers should use their
negotiating leverage with Big Tech
to address the gaps in all priority areas—helping to close the access and affordability gaps, improving data collection, and expanding digital literacy. As Nobel laureate economist
Paul Romer suggests, taxing targeted digital ads
would not only encourage companies to move away from business models that erode democratic institutions but would provide a new source of revenue for much-needed infrastructure improvements. Maryland approved the country's
first tax on digital advertisement revenues this year
, which is expected to generate an estimated $250 million for the state. Given the yawning gap between the $240 billion needed to fund expanded broadband, and the
shrinking proposals from Congress
, taxing even a modest portion of the nearly $140 billion in digital ad revenue could fund a significant part of the most ambitious broadband deployment plans. Meanwhile, the Big Tech players could boost their brands and begin to regain public trust through expanding their access solutions and offering them at an affordable price. Amazon and Apple are working toward deploying low-earth satellites. Alphabet is working on
fiber deployment
.
Facebook Connectivity
is "exploring new ways to bring fast, reliable internet to those without it." Reaching disconnected Americans and offering more affordable internet options would foster not only increased competition and public goodwill, but a more inclusive internet.
6. Create a competitive ISP market to ensure consumer protection and digital competitiveness. Demand accountability and transparency from the ISPs.
A lack of competition in the market is harming the consumer. ISPs have received government funding to deploy broadband, but are failing to meet their commitments. Putting accountability processes and incentives in place, including fostering a more competitive landscape will not only improve access but improve consumer welfare.
Without a competitive marketplace, consumers are faced with fewer options, poor quality of services, and higher prices. Most American households rely on the services provided by one or two players creating a monopoly or duopoly. Such lack of competition deepens the digital divide as households in both urban and rural areas cannot access or afford better quality services. A more
competitive landscape alone will not solve the access challenge
, but it
can reduce prices and improve service
for Americans. Accountability measures are needed to improve service and effectively expand deployment. The cable industry makes nearly
$450 per customer per year on hidden fees
. ISPs should be obligated to disclose prices that are inclusive of all additional costs such as fees for equipment, installation, and activation. Towards this, the Open Technology Institute has been advocating for a
"broadband nutrition label" for over a decade
. Similar to nutrition labeling required by the Food and Drug Administration, the label would inform consumers of all costs in a standardized format. The idea is finally getting some traction in Congress, but the government could also tie grants and subsidies to more transparent pricing requirements. The administration must strengthen antitrust enforcement of ISPs. While merger conditions have been imposed on companies to provide affordable internet access to low-income households, such conditions have not been fulfilled by the companies in the absence of monitoring or enforcement of the condition by the regulators. More instances of such mergers have resulted in the consolidation of private power without holding the companies accountable. In the US, average
broadband pricing is around 15% lower for those with three or more providers, and can be up to 40% lower in cities with lots of competition
. The FCC, Department of Justice, and the Federal Trade Commission must
do more to foster competition in the broadband market
through stronger antitrust enforcement. Legalizing municipal broadband networks in every state will create a more competitive landscape. While the
larger ISPs are fighting municipal broadband solutions
, consumer advocates are
supportive of community-based solutions as one way to address the affordability challenge in the country
.
7. Clarify the gaps and establish a nationwide bidding process to elevate the best solutions. Allow cities and towns to provide their own broadband but open up more paths to reaching digital inclusion.
Infrastructure
Institutions
Inclusivity
Digital Proficiency
The Covid pandemic effectively ended the argument over whether broadband is an essential service or a luxury. After clarifying the gaps through the earlier policy recommendations, a nationwide bidding process is the most efficient process for elevating the best solutions to close gaps. Banning the bans on municipal broadband allows for cities and towns to develop a localized approach—be that a public, private or hybrid solution.
Given the
political bickering
and polarization clogging progress in DC and the complexity and scope of the challenge, we must remain open to more approaches to achieving universal broadband, rather than preemptively limiting options. To that end, an important first step is to put an end to lobbyist-led municipal broadband bans at the state level. For some municipalities, particularly those long neglected by the ISPs,
municipal broadband is the best solution
. For others, a
public-private partnership
might offer a more appealing approach. Whatever the solution, accountability must be a key element. Through better data, and an adequately funded and empowered FCC, the government can play a pivotal role in helping states and localities identify the major gaps of the digital divide: access, inclusion, digital proficiency, and institutions. The access issue persists because the lowest-hanging fruit—the areas where the return on investment was most favorable to the ISPs—has already been captured, and areas with sparse populations or challenging geographies do not make business sense without significant government support. The affordability issue, which disproportionately plagues urban communities, is not only a challenge for households but presents an impediment for ISPs to invest in high-speed broadband if they do not expect adequate demand. Maintaining digital proficiency is a lifelong pursuit, perhaps particularly well-suited to a public-private approach. While educational institutions can help students develop these foundational skills, employers have a duty to train and develop their employees to stay abreast of technological change. The federal government can organize bids soliciting the best solution for each gap area—access, affordability, or digital literacy—and in consultation with local partners, set targets and tie subsidies, grants, and incentives for state and local governments to meet them. In addition, the administration can require more accountability and transparency from the ISPs through ending
hidden fees
, continuing to work toward a more comprehensive, timely national broadband map, and working closely with local partners to monitor progress. According to
Broadband Now
, 18 US states have implemented laws that either prohibit or restrict local communities from building and creating their own broadband networks. Though such legislations vary from state to state, they ought to be repealed as they act as barriers that restrict competition and hinder the efforts of municipalities to bridge the digital divide at the grassroots level. While Congress has implemented broadband programs at the federal level, states require additional support in their efforts to formulate and implement comprehensive broadband initiatives. Towards this, a universal template that offers possible approaches for all states can help them in adopting sustainable solutions based on their specific needs and challenges. Through such complementary approaches, states can exchange ideas and share lessons learned from their initiatives.